The Azores is a group of nine volcanic islands located about 930 miles west of Portugal. It was settled in the fifteenth century by pioneers from Portugal as well as small groups of Flemish settlers. It quickly became an important center of trade between Europe, America and India, offering shelter, provisions and services to the trading vessels. The Azores are an autonomous region of Portugal. The two northwestern islands are Flores, population 4,000, and Corvo, population 360. We passed between them on Saturday on our way to Faial, population 15,000. Although Flores is supposed to be gorgeous, the anchorage is no good in a northerly or easterly wind, so we didn't stop.
After a day of celebration and recovery (Sunday), and clean up (Monday), we embarked on a day of exploration in a rental car on Tuesday. The island is dominated by lush green vegetation that grows in abundance up and down the volcanic hills and valleys. There are maybe a dozen (I can't find anywhere that tells me exactly how many) of these "caldeiras" on the island of Faial, which mark the center of volcanic eruptions. The whole archipelago is situated at the junction of three tectonic plates so earthquakes and volcanic activity dominate the geographic history and landscape of the area.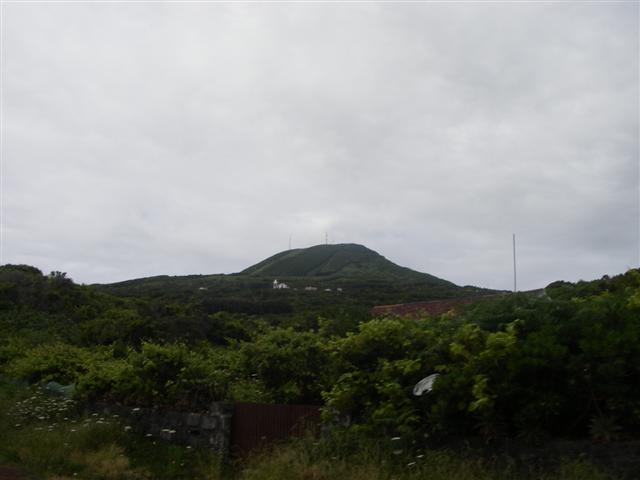 The most recent eruption on Faial, in 1957-58, buried a small village under piles of volcanic ash. The year long event began just offshore and was so abundant that it actually added a square kilometer of land to the island. We hiked over and around this site, which is too new to have sprouted the dense growth characteristic of the other caldeiras.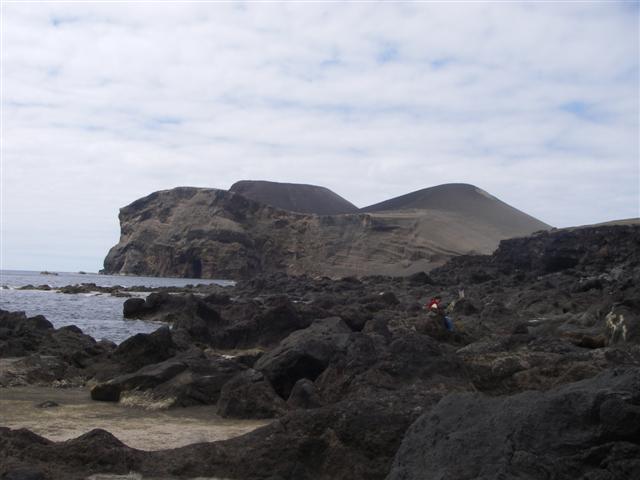 We stopped first at the nearby rocky shoreline, where the little girls and the big boys decided to go for a swim despite the chilly water and our lack of preparation for any aquatic activity!
We actually got our activities backwards as the swim would have been much more refreshing and cleansing AFTER hiking up the dusty volcano. It was an eerie, barren landscape culminating in a precipitous vertical drop into the ocean.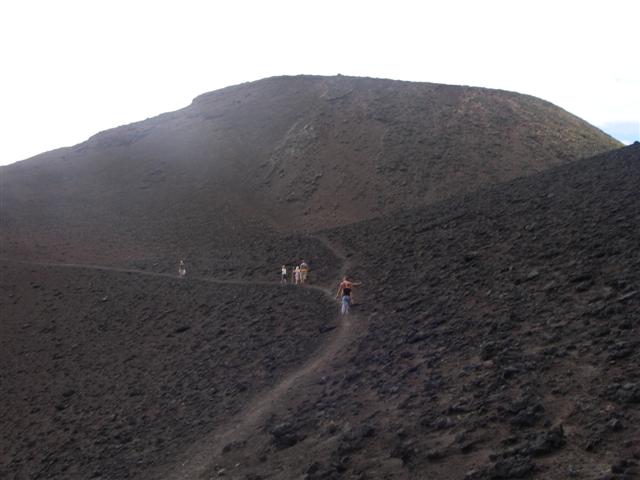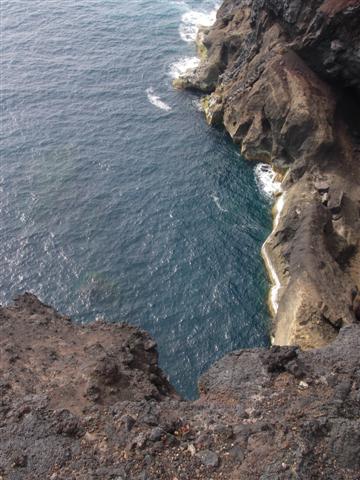 The city of Horta is a beautiful seaside town on the southeast corner of the island. The architecture is old world and beautifully maintained. Black and white stone buildings are topped by red tile roofs and accented with flowers everywhere. Huge hydrangea bushes grow wild, lining the streets and highways with ribbons of blue. Flowering trees and an endless variety of wild flowers add brilliant color to the rich texture of the vegetation that grows thick on every hillside. There is indeed something to be said for nice fertile volcanic soil!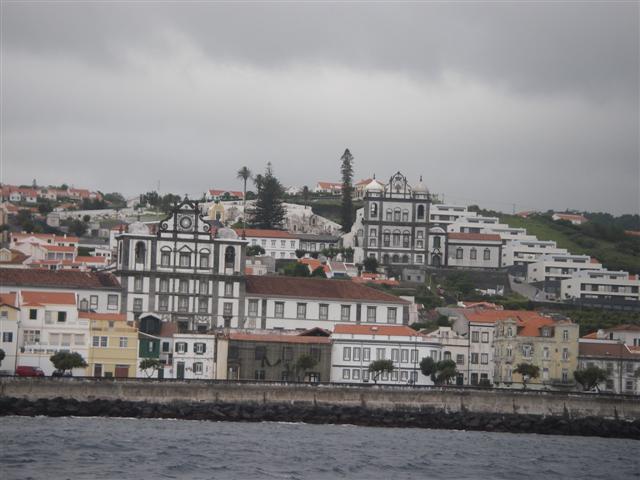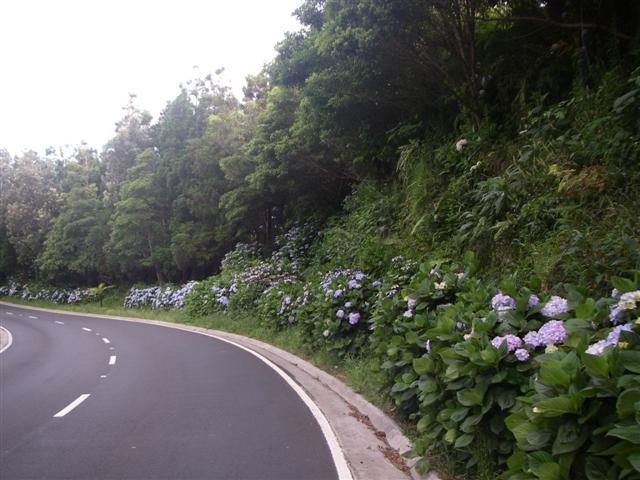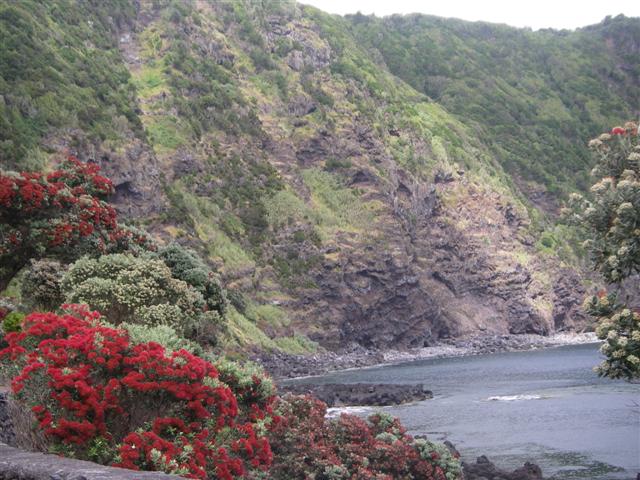 More than a thousand boats a year pass through Horta Harbour on their way from the Caribbean and North America to Europe, so there is no lack of social activity for those who are so inclined. We have seen our old friends Gerry and Monique on "Taranga," who participated in the Caribbean 1500 with us in November. They are also on their way to the Med so we look forward to seeing them more. We also met Luc and Nicole on "Yakataka," the Switch 51 that was built just after ours. We had been in touch with them through the boatyard and were thrilled to finally meet them in person. They too love their boat and we should see them again as well on our travels through the Med.
Of course, it has been wonderful to be here with our friends on Cenou. The four girls have been running around the marina, playing and exchanging stories non-stop since we arrived on Sunday. They all get along marvelously and I'm sure both pairs of sisters are happy to have a different playmate than each other.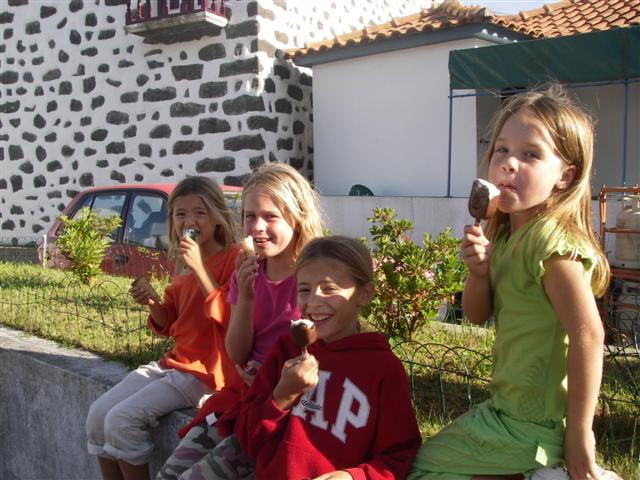 Claude and Rike have made good friends with Andre, a Norwegian single-hander who has been cruising for the last five years. He is full of wonderful stories and always a great sense of humor. Claude and Andre have promised to cook dinner for all of us tonight so we are sure to walk away with more great memories of our time in Horta.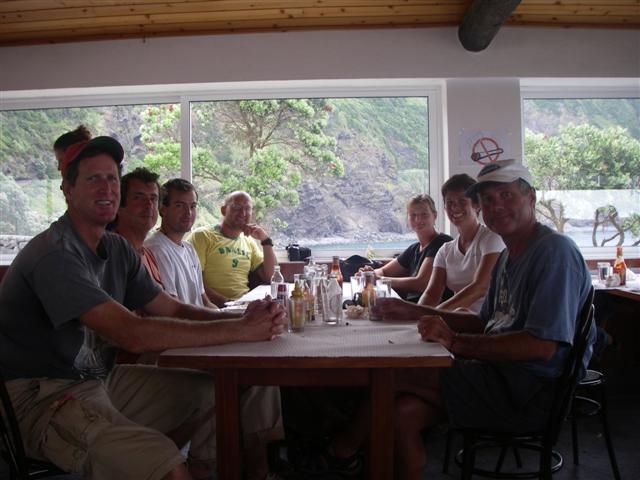 Glenn, Claude, Matthew (Cenou's crew from Bermuda), Andre, Rike, Christy and Joe at lunch yesterday.

All our best,

Christy, Joe, Cassie and Juliana

Next entry >>>>>>> Many thanks to our friend Craig Homenko for his assistance in setting up the website. We also would like to thank our buddy Scott Brunner who has been kind enough to host the website on his server.